Terror! The Phantom Fighter Appears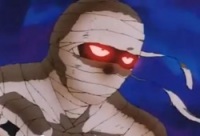 恐怖! 亡霊ファイター出現
USA, 1994 TV

TV-series Mobile Fighter G Gundam (機動武闘伝Gガンダム)


Directed by Yasuhiro Imagawa

Domon and Rain travel to Neo Egypt in order to face a mobile Gundam fighter there. Upon arriving, they find out the current Gundam and its pilot have been destroyed by a 'ghost', the Mummy Gundan, who uses sandstorms to hide itself and attack. Joining Sai Saici, the group learns that the Mummy Gundam and its pilot were taken over by DG cells because of the mummy's strong desire to defeat Sai Saici after what his grandfather did in a previous tournament. The Mummy Gundan appears again, and this time Domon uses his Super Mode to defeat it.

Episode from the Anime series "Mobile Fighter G Gundam" (機動武闘伝Gガンダム or Kidō Butōden Jī Gandamu), set in a future where space colonies hold organized fighting tournaments known as the "Gundam Fight" every four years to settle their political differences in place of war. The series ran for 49 episodes in 1994-1995.