Pardon, Pharaohs!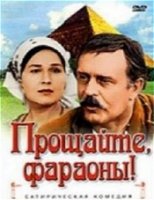 Прощайте, Фараоны!
Russia, 1974

Nikolai Slezka, Lyudmila Alfimova, V. Yachminsky
Directed by David Cherkasskiy, Vyacheslav Vinnik

Merry history about how a couple of men, who get tired from the reproaches of their wives, change places with them. It turns out that 'female duties' are not entirely easy.
I have not seen this film, but from a number of pictures I found on the Internet it seems that the men in this movie dream about the 'good old days' of the Egyptian pharaohs when men were still getting the pleasures of life rather than the displeasures they get today. The title "Прощайте, Фараоны!" or "Proshchayte, faraony!" in English translates to "Pardon, pharaohs!".