The Notorious Cleopatra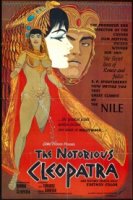 USA, 1970
Sonora (Loray White), Johnny Rocco, Jay Edwards
Directed by A.P. Stootsberry

"The Soul Queen of the Nile Who Ruled the World…The Black and the White! "
A sexually voracious, and fat slob Caesar sends Marc Antony to bring the notorious Cleopatra back to Rome. Though he's ordered to keep his hands to himself, Antony quickly falls under the Queen's spell, leading to a virgin sacrifice, an Egyptian orgy, the Ides of March, and a shocker of an ending in this wacky sex comedy. (source: visionfilms.net)
The "adult" version of the Cleopatra story from the director of "The Secret Lives of Romeo and Juliet" which won at Cannes in 1969. Produced by the notorious Harry Novak.