Alexandria Again and Forever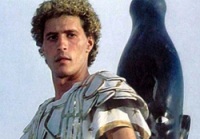 إسكندرية كمان وكمان
Egypt, 1990

Youssef Chahine, Yousra, Hussein Fahmy, Amr Abdel Galil
Directed by Youssef Chahine (يوسف شاهين)

This film is the third part of director Youssef Chahine's semi-autobiographical "Alexandria Trilogy". The hero Yehia, now in his middle age, is played by Chahine himself. Yehia is revising Hamlet for screen adaptation, and considers casting Amr in the title role. Regrettably, Amr has no interest for the part, and prefers to star in a crass TV soap sponsored by an oil tycoon. Even the union is on the tycoon's side, which becomes the catalyst for a strike among film industry professionals. However, there is a silver lining to the cloud – Yehia meets the beautiful and ebullient actress Nadia, and decides to cast her in his screen adaptation of Cleopatra.