The Ten Commandments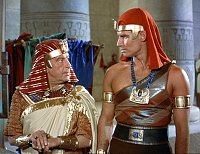 USA, 1956
Charlton Heston, Yul Brynner, Anne Baxter, Edward G. Robinson
Directed by Cecil B. DeMille

"The Greatest Event in Motion Picture History"
To escape the edict of Egypt's pharaoh Ramses I, condemning all first-born Hebrew males, the infant Moses is set adrift on the Nile in a reed basket. Saved by the pharaoh's daughter Bithiah, he is adopted by her and brought up in the court of her brother, pharaoh Seti. Moses gains Seti's favor and the love of the throne princess Nefertiri, as well as the hatred of Seti's son, Rameses. When his Hebrew heritage is revealed, Moses is cast out of Egypt, and makes his way across the desert where he marries, has a son and is commanded my God to return to Egypt to free the Hebrews from slavery. In Egypt Moses's fiercest enemy proves to be not Rameses, but someone near to him who can 'harden his heart'. (source: IMDb)
The crowning glory of director-producer Cecil B. DeMille's long and distinguished career, which includes many biblical-subject films. Short partly on location in Egypt (Deir el-Bahari, often misidentified as 'the valley of the kings') and Sinai. In keeping with this solid principles DeMille retained a research staff at Paramount Studios and engaged men of the cloth from various religions as technical advisors on the film. Credited Egyptology advisors were William Hayes and Labib Habachi. The film is often called a re-make, since DeMille had already shot a shorter version of The Ten Commandments in 1923, but for its grandiose setup, length and use of color the 1956 version is a different film altogether. Recently a 50th Anniversary Edition DVD was issued which includes both movies and exemplary commentary by Katherine Orrison, author of "Written in Stone - Making Cecil B. DeMille's epic The Ten Commandments".