She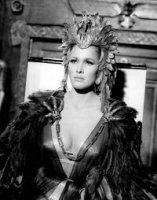 UK, 1965
Ursula Andress, Peter Cushing, Christopher Lee
Directed by Robert Day

"She who must be obeyed! She who must be loved! She who must be possessed!"
Palestine in 1918, just after the end of World War I. Discharged from the army, Leo Vincey and the ex-historian Major Hollis L. Holly are penniless. Vincey is abducted and taken before the beautiful Ayesha who says she has been waiting a long time for him to return, believing Leo is the reincarnation of her former lover, the priest Kallikrates, who she killed in a jealous fury in ancient Egypt where they were lovers. She gives him a ring and a map and tells him to prove himself by coming to where she lives beyond the Mountains of the Moon. Vincey and Holly set out on an expedition, crossing the perilous desert wastes, to eventually arrive at the lost city of Kuma. There queen Ayesha, 'She Who Must Be Obeyed', rules cruelly over a land descended into savagery and cannibalism. The undying queen's jealously guarded secret is revealed to be an icy 'Blue Flame' that, when entered, gives one eternal life. When She tries to take Leo into the 'Blue Flame' with plans for eventual world domination, a horrific surprise awaits them..
Based on H. Rider Haggard's classic adventure novel "She" from 1887.