Scooby-Doo in Where's My Mummy?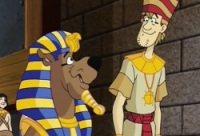 USA, 2005
Directed by Jim Stenstrum

Archeologist and super sleuth Velma is in Egypt for the unveiling ceremony of the restored Sphinx - a mysterious mythical creature with the head of a man and the body of a lion - only to discover a hidden tomb belonging to Cleopatra herself! But beware the ancient pharaoh's curse: "The Nile will fall, the desert shall rise and all who dare enter will be turned to stone!" Of course that won't stop Scooby-Doo and the Mystery Inc. team from going inside and finding something even more mummifying...a cursed army of the undead! (source: Warner Bros.)
Scooby-Doo is a popular and long-running animated series produced for television by Hanna-Barbera Productions, now Cartoon Network Studios. "Scooby-Doo! in Where's My Mummy?" was, however, not produced for television but is a so-called direct-to-video movie. These movies feature the original five-character cast from the early "Scooby-Doo, Where Are You!" days, not including the later Scrappy-Doo character. The success of the video movies led to Scooby's return to television in the "What's New, Scooby-Doo?" series, which in 2002 also included a mummy feature called "Mummy Scares Best" (USA, 2002).