The Mummy's Hand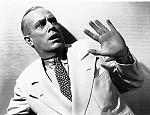 USA, 1940
Tom Tyler, Dick Foran, Wallace Ford, George Zucco, Peggy Moran
Directed by Christy Cabanne

"Tomb of a thousand terrors!"
Archaeologists in Egypt discover evidence of the hidden burial place of the ancient Egyptian princess Ananka. With funding from an eccentric magician and his beautiful daughter they set out to find the tomb, but accidentally discover doomed Kharis's tomb first. An Egyptian priest who vowed to guard the princess' mummy takes control of the awakened Kharis to kill the party members off one by one.
This first film in a series of Kharis films is by far the best, though it is heavily grounded on story and pictorial material from the original 1932 Mummy film with Boris Karloff. It is often forgotten that in this film not Lon Chaney Jr, but actually Tom Tyler plays the first Kharis. It was his tall and impressive posture that probably won him this role. Tyler was an exceptional athlete who held the American weightlifting title for fourteen consecutive years. He even attended the 1928 Olympics. He was, however, foremost a star in western movies and the Captain Marvel series. He would not continue roles in the horror genre.