Mummies Alive!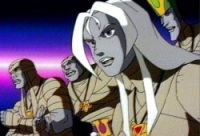 USA, 1997
TV
Directed by Seth Kearsley

A pharaoh who avenges his murdered son, Rapses, and his guardians by cursing the killer, the treacherous Scarab, to 50 lifetimes entombed beneath the sands of Egypt. Now, 3500 years later, 12-year-old Presley Carnavon unwittingly learns he is the descendant of Prince Rapses and that he, Presley, is being pursued by the recently loosed Scarab. However, risen to protect Presley are his mummified guardians who, with the special powers granted by the ancient Ra, possess the skill, cunning, and mystical weaponry to protect the young boy. Here, in Mummies Alive!, ancient Egypt is reborn in modern-day San Francisco as the centuries old battle of good vs. evil wages on.
Made-for-television 42 episodes-series.