Production info

---
Hieroglyph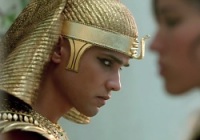 USA, 2014
TV
Adam Leadbeater, Erick Avari, Max Brown


A notorious thief is plucked out of the prison to serve a Pharaoh obsessed with maintaining power.
This 13-episode action-adventure tv-series by 20th Century Fox TV and Chernin Entertainment was cancelled, despite half of the episodes having already been filmed and a trailer published. Apparently the show wasn't coming together creatively in the way that executives had hoped. The series was to be set in ancient Egypt, where fantasy and reality are intertwined. It would follow a notorious thief who is plucked from prison to serve a Pharoah who rules with an iron fist and fully trusts no one, being obsessed with maintaining power, which he'll do by any means necessary. In the process, the thief has to batlle palace intrigue, seductive concubines, criminal underbellies and divine sorcerers. What remains is the published trailer.

---
NOTICE - This website contains documentation and other information about motion pictures, television movies and episodes from television series related to ancient Egypt and Egyptology. It reports these materials to serve the study of ancient Egypt as a phenomenon in modern popular culture media. As such, the material on this site is provided solely for the purpose of non-commercial, non-profit educational use, comment, scholarship and research. Though the copyright to most photographic material presented here is owned by third parties, the editor wishes to express that in line with the aforementioned use no copyright infringement is intended. For this reason all images are limited to low resolution thumbnail size. In this respect the visitor should be aware that the use of image material from this site for purposes other than private viewing may infringe copyrights owned by others. The further copying, redistribution, or publication of any part of this site is therefore prohibited. Any concern about or objection to material placed on this site can at all times be made known to the editor and will be addressed. This website does not feature ads, does not generate money or profit in any way and does not use cookies.
Created and maintained by Hans van den Berg
This site is ©2000-2023 Hans van den Berg, The Netherlands. The editor claims no copyright to the images.