That Darn Katz!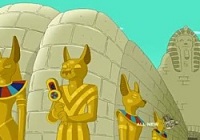 USA, 2010
TV
TV-series Futurama

Directed by Frank Marino

A sinister cat and his human servant, professor Katz, use Amy's failed dissertation to launch their plan to save their home planet by destroying Earth. The cat is actually part of an alien race of highly intelligent talking space cats that already invaded Earth back in ancient Egypt. The space cats' home planet, Thuban 9, began to lose its rotation, and they discovered that only Earth had the correct orientation and magnetic field with which to harness its rotational energy. They built the Great Pyramid of Giza as an energy transfer antenna and planned to send Earth's rotational energy to Thuban 9, but became distracted by their reverential treatment by the Egyptians, eventually forgetting their technology over the centuries and into the present (future) day. Amy's thesis provided the space cats with their lost technology, allowing them to begin once again. Katz and its other colleagues place the crew under their influence with hypnotic "hyper-cuteness" and force them to build Amy's proposed invention. Amy is able to foil the plot with her knowledge of applied physics, and some help from Professor Farnsworth, and as a result receives her doctorate in the end.
Episode 8 from the 6th season of the popular animated sci-fi series "Futurama", playing 1000 years in the future. By the creators of The Simpsons: Matt Groening and David X. Cohen.