The Mole People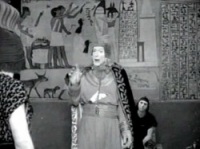 USA, 1956
John Agar, Cynthia Patrick, Hugh Beaumont, Alan Napier
Directed by Virgil W. Vogel

"A savage civilization a million years old, raging with blood-lusting fury!"
Somewhere deep in in Asia archeologists find a stone tablet and an ancient oil lamp at the base of a large mountain "below the great flood level". The fact that the oil lamp is shaped like a boat makes one of the archaeologists note that the biblical flood "has been proven to be a historical fact". A five-man expedition is organized to climb the snowy mountain to look for more artifacts. They come across a Sumerian temple carved into the mountainside. When the ground suddenly gives way, deep below the surface they discover a race of Sumerian albinos who moved there long ago to escape cataclysmic floods in ancient Mesopotamia. They have slaves they call 'mole people' who look like true 1950's sci-fi monsters. The Sumerians believe the archaeologists to be messengers of their goddess Ishtar, but when one of the archaeologists is killed the High Priest realizes they are not gods and trouble starts.
The civilization discovered by the archaeologists is supposed to be Sumerian, yet the decorations on all the walls and columns are definitely Egyptian, the reason why this film is listed here. As Dr. Bentley tells his fellow excavators, "in archaeology all things are possible!".