The Mummy's Kiss: 2nd Dynasty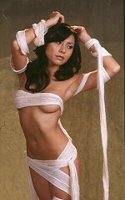 USA, 2005
Kylie Wyote, Elyse Lam, Mark Bedell
Directed by Donald F. Glut

"She's back… wrapped… and ready to unwind!"
Museum director Dr. Zita Furneaux, empowered by the Egyptian goddess Nephthys, regains her lost youth by dispatching a living Mummy to kidnap sexy young women from whom she steals their ka's (souls)," turning them into zombie-like love slaves. Reporter Elyse Lam, investigating the case of the missing women, also falls prey to Zita's lusts.
Soft porn movie. Sequel to "The Mummy's Kiss" (USA, 2002).