The Mummy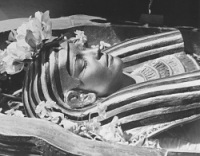 UK, 1959
Christopher Lee, Peter Cushing
Directed by Terence Fisher

"Egypt, 4000 years ago, a land of strange rituals and savage cruelty..."
British archeologists discover the grave of ancient Egyptian princess Ananka. But when they open it a bad curse falls on them for having woken up the mighty guard Kharis who was sworn to protect her. Soon they find themselves haunted by the unstoppable living mummy in Victorian England.
Egyptologists beware, for a priest in the film solemnly swears "He who robs the graves of Egypt... dies"... This is the fifth film featuring the mummy Kharis, following "The Mummy's Hand" (1940), "The Mummy's Tomb" (1942), "The Mummy's Curse" (1944) and "The Mummy's Ghost" (1944). In between there was a less serious Kharis appearance in "Abbott and Costello Meet the Mummy" (1955). The whole story concept for these films actually goes back to the original mummy film with Boris Karloff from 1932.