Legend of the Mummy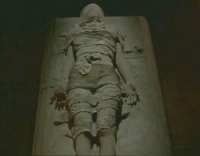 USA, 1998
Louis Gossett, Jr., Amy Locane, Eric Lutes
Directed by Jeffrey Obrow

"An Ancient Queen. Her Deadly Curse. The Terror Begins."
Set in present day San Francisco, this thriller is the tale of famed Egyptologist Abel Trelawny, his beautiful twenty-four year old daughter Margaret and Robert Wyatt, the man Margaret turns to on the most frightening night of her life. Margaret's father is found in a coma with his right arm savagely torn in seven strange cuts. Lying nearby is his most prized possession, the ancient mummy of Queen Tera. Robert becomes immersed in the great mystery of the Trelawny mansion, a mansion adorned by hundreds of ancient treasures taken from the Egyptian tombs decades earlier. Among these artifacts are explicit instructions from Trelawny to his daughter. "If I am mysteriously stricken, I must not be move form this house. I must never be alone". Helping Margaret and Robert keep watch is a curious mix of characters: Trelawny's doctor, an ex-Scotland Yard detective and a mysterious colleague from the Egyptian expeditions long ago, John Crock. It is this mad eccentric, John Crock, that seems to know the answers and most importantly...the questions.
Fourth film adaptation of Bram Stoker's novel "The Jewel of Seven Stars". Also known as "Bram Stoker's Legend of the Mummy".